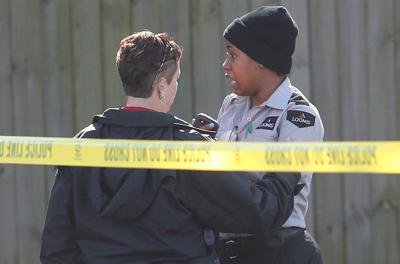 New Orleans LA Nov 16 2019
A federal court jury Wednesday night convicted a man of helping to plan and carry out a robbery that led to the shooting death of a Loomis armored truck guard outside a New Orleans bank nearly six years ago.
The jury also convicted that man's cousin of helping to plan the deadly stick-up but acquitted him of charges that he had a hand in the actual robbery.
Jeremy Esteves faces mandatory life imprisonment after being convicted of the use of firearms in a crime which led to the Dec. 18, 2013, murder of guard Hector Trochez. He was also found guilty of conspiracy to commit armed robbery as well as of the robbery itself, each of which carry up to 20 years in prison.
Jurors found Robert Brumfield III guilty of the armed robbery conspiracy but acquitted him of the other two charges, meaning he faces up to 20 years in prison.
The seven women and five men on the jury deliberated for three hours Tuesday and another 13 hours on Wednesday before returning the verdict against Brumfield about 8:45 p.m. They then deliberated two more hours before rendering Esteves' verdict.
The defendants are both black, as were two of the jurors.
Trochez, 45, was killed in a shootout with three masked gunmen who showed up in a stolen Chevrolet Tahoe and ambushed him as he and his partner delivered $265,000 to the Chase Bank branch at South Carrollton and South Claiborne avenues.
A fourth man drove them away before they ditched the Tahoe and left in another getaway car that prosecutors Michael McMahon and Brittany Reed of the U.S. Attorney's Office said was driven by Brumfield.
Investigators caught a key break when DNA left on a screwdriver in the Tahoe was linked to a man named Lilbear George.
McMahon and Reed said that lead, plus informants, cellphone records, surveillance and other methods allowed the government to file charges in November 2017 against George, Brumfield, Esteves, Chukwudi Ofomata and Curtis Johnson, accusing them of roles in the sequence of events culminating in Trochez's death.
Ofomata allegedly fired the rifle bullet that struck Trochez in the head and killed him. George and Johnson fired guns as well, according to the feds.
Prosecutors asserted that Esteves then drove the Tahoe to a second vehicle, which belonged to Ofomata's girlfriend at the time and where Brumfield waited.
Prosecutors said the men divided roughly $250,000 among themselves and set aside $15,000 for an employee of the bank, Thierry King, who had been in contact with Brumfield and Esteves ahead of the robbery. King has not been charged, but prosecutors described her as an unindicted co-conspirator.
Brumfield and Esteves were also accused of scouting the bank before the holdup, with Brumfield allegedly telling an informant that the crew believed Trochez's bulk would make him a clumsy adversary.
Brumfield's attorney, Townsend Myers, argued that testimony suggested the same four people who left the bank in the Tahoe were the only ones who later made their getaway in the second vehicle. According to Myers, there was no evidence showing Brumfield was ever in that car.
"The government's story … does not add up," Myers said in his closing argument Tuesday. "No matter how tragic the murder of Hector Trochez may be, no matter how much you'd love to convict (someone in) this case, no matter how bad you feel about it, you cannot find Robert Brumfield guilty."
One of Esteves' lawyers, Nandi Campbell, argued that the government's informants were "hustlers, criminals and liars" trying to frame her client to win leniency for their own legal problems.
Campbell and co-counsel Majeeda Snead also accused investigators of failing to fully vet other plausible, potential suspects.
In her closing argument, prosecutor Reed said the almost four-year gap between Trochez's death and the charges against the defendants pointed to a thorough, well-grounded investigation.
"We took the time to investigate what was reasonable and what made sense," Reed said.
Neither defendant took the witness stand during their trial, which began Nov. 4.
George, Johnson and Ofomata, who have pleaded not guilty, are scheduled to stand trial next year. All three could face the death penalty if convicted of actually killing Trochez.
Ofomata is also awaiting trial in state court in connection with the 2008 shooting deaths of a couple whose burned bodies were found in a torched SUV.
nola