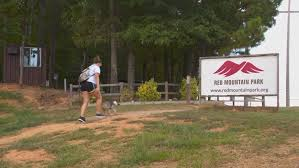 BIRMINGHAM, Ala.  October 7 2019 Earlier this week, all 11 part-time park rangers at Red Mountain Park were let go.
Today we learned for now, visitors are on their own on the trails.
Since Red Mountain Park opened to the public in 2012, park rangers have patrolled the park according to former rangers.
Those rangers also claim they responded to an average of more than 1,000 calls a year.
Days after they were let go, I walked some of the trails and waited to see if I could find if anyone took their place.
For more than an hour, I saw no patrols.
Runners like Mark Montealegre wonder who is going to respond and how much longer it will take.
"I guess there wouldn't be somebody very close to come along and save them and pull them out of the park."
Mountain biker Jake Casey, has seen what can happen out on the trails.
"You need someone there to help you, and if there's no one there to help you it can get real ugly real fast."
First, I was told Jefferson County Sheriff's deputies would be patrolling.
Then I was told it may actually be Birmingham police officers.
After speaking with Red Mountain park representatives, police and the mayors office, all seemed a bit confused.
Then late Friday afternoon, I spoke with a Birmingham city council member.
Now, I'm told the city of Birmingham expects to agree to have two Birmingham officers work solely at Red Mountain Park.
The vote to approve officers taking over at Red Mountain Park will take place at the next city council meeting.
We will keep you updated on that decision.
The reason for the park rangers being let go, a decision by the Red Mountain Greenway Recreational Commission, is because city police have better resources and search-and-rescue support.
WBMA