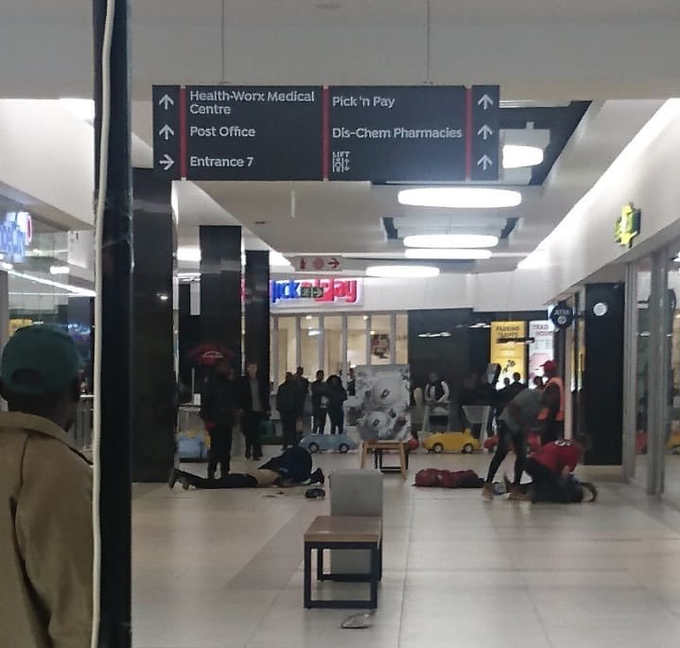 South Africa July 20 2019
Two alleged robbers and a security guard were wounded in a shootout at Centurion Mall at around 18:15 on Thursday, Netwerk24 reported.
They were reportedly wounded when they allegedly attempted to rob a store in the mall and a shootout ensued. One security guard was reportedly taken to hospital while the alleged robbers were treated on the scene.
Mall spokesperson Marli Strauss confirmed the incident to Centurion Record.
"Two of the suspects were injured when the security guard returned fire," Strauss reportedly said.
"The security guard was also injured and transported to hospital."
The SAPS said in a statement: "Four suspects entered the Centurion Mall and attempted to rob one of the stores. The security was alerted to the situation and responded; the suspects saw them approach and fired at the security officer who returned fire hitting two of the suspects.
"One suspect was hit in the leg and the second one was hit in the upper body.
"The suspect that was hit in the leg fled the scene and attempted to hijack a vehicle outside the mall; however, he was unsuccessful and was apprehended.
"The first suspect who was hit in the upper body was rushed to hospital but succumbed to his injuries.
"In total, two suspects were arrested and one passed away.
"Two unlicensed firearms were recovered on the scene together with the money taken from the store.
"The security officer who was involved in the shooting was unfortunately also hit and is in a stable condition in a private hospital.
"We are still looking for two suspects that managed to escape and are following up all leads. The arrested suspect will face charges of possession of unlicensed firearms attempted murder and armed robbery.
"Our thoughts and prayers go out the the security officer and we wish to convey our appreciation for his willingness to place himself in harms way to ensure that these suspects were arrested," the statement by the Lyttelton SAPS read.
In the past, robbers have targeted the mall. In January this year and in July last year, the Incredible Connection store at the mall was robbed, Centurion Record reported.
In October 2014, six people were arrested following a robbery and shootout at Centurion Mall, Sapa reported at the time.