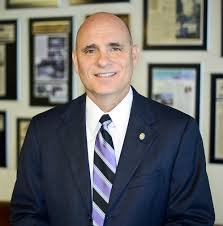 Charlotte NC October 5 2019
One of the recently named Most Influential People in Security is Chief Jeff Karpovich who oversees the campus security staff at High Point University in High Point, N.C.
Jeff is a longtime Lifetime Member and supporter of the Private Officer International association and a true professional in his field.
Chief Karpovich oversees four departments on the campus including Transportation, Parking, Safety & Emergency Management with a staff of 130 persons.
During his tenure at the school, Chief Karpovich has provided leadership and implemented a progressive and professional security program to ensure the safety of students, faculty and visitors.
Twenty-six security leaders this year have been nominated by their colleagues and associates and were chosen based upon their leadership qualities and overall positive impact on stakeholders, enterprises, colleagues, constituents and the general public.
This year's Most Influential is organized by the following categories: Corporate Security Executives; Cybersecurity, Government, Universities, Associations and Special Recognition.
Chief Karpovich told Security Magazine that he most proud of building the High Point University protection and transportation programs and is proud of the work that he and has done to make the campus safer.
We at Private Officer International also congratulate the chief for being selected for this recognition and for his great work at High Point University.