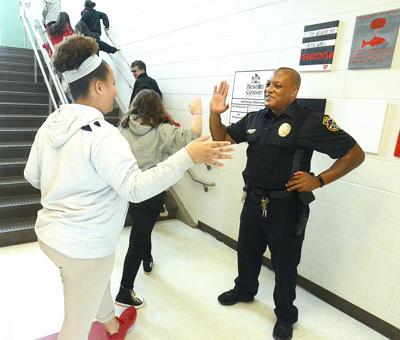 Conover NC May 21 2019
Conover Police Sgt. Danny Baker, school resource officer at Newton-Conover Middle School, is known as the guy who gives the students Pop-Tarts. Now he is also known as the 2019 Floyd Ledbetter National School Resource Officer of the Year.
Baker said he started giving Pop-Tarts to the students after sitting down with a student who never had name-brand Pop-Tarts before. He gave the kid a Pop-Tart and word spread quickly. Baker now keeps a stash of the pastry snacks and offers them to any kid who asks.
"For some kids, their last meal of the day is lunch here," Baker said. "That's a way of life for them. So I keep Pop-Tarts here for them."
Baker was a chemist in Atlanta before he felt called to public service. "I always wanted to do public service," Baker said.
Baker's cousin is the school resource officer (SRO) at Bandys High School. Baker was inspired by him to take on the SRO position at Newton-Conover Middle.
"I've always enjoyed mentoring kids," Baker said. "Being a police officer is a calling for your community. When I came here, everything just feels right."
Baker has been at Newton-Conover Middle for five years.
Baker said he believes in having a good relationship with the students of Newton-Conover. At the beginning of each school year, Baker attempts to meet with as many students as he can.
"They are going through a lot," Baker said. "Sometimes it's just a matter of trying to put a smile on their face."
Baker said by establishing a relationship with the students ahead of time, he can better help them when a situation does happen.
"When I have to go remove a kid from a class, I ask them, 'So what's going on? Let's hear your side of the story,'" Baker said. "It might be a bunch of b.s. but I'm listening. I don't criticize. That's all they want is someone to listen. We can always figure out what happened later."
Baker said in some agencies being an SRO is considered to be something a cop has to do when he or she fails, but to him being an SRO is an honor and a commitment.
"To be a true SRO, you got to be involved and interact with the kids," Baker said. "You can make a difference."
Baker said he plans to stay at Newton-Conover Middle School until the day they run him off.
"It's a dream job," Baker said. "I get to interact with the kids and be a police officer."
According to the National Association of School Resource Officers website, the Floyd Ledbetter National School Resource Officer of the Year Award recognizes an SRO who has made a specific and significant contribution to their local town, city, county and/or school district.
Baker was nominated by the faculty of Newton-Conover Middle School.
Baker will officially receive his award in Pigeon Forge, Tenn., on June 23.
hickoryrecord.com