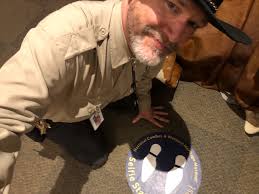 OKLAHOMA CITY, Oka, March 25 2020 With the Coronavirus pandemic, some people are finding themselves wearing different hats to help their workplace.
One of those people stepping up is the head of security at the National Cowboy & Western Heritage Museum in Oklahoma City, Oklahoma.
While their museum is closed right now due to the coronavirus, Tim says he's taking on additional duties.
He's helping manage the museum's social media account.
Tim says he's new to the social media game, but he's excited about the challenge.
Social media might not be his forte, but he's rising to the challenge.
In one post he shows how he's trying to show off the museum's "selfie stations."
His posts are getting lots of love online, due to his special style of managing social media.
From writing out the word "hashtag" in his tweets to always saying "thanks" in his posts, his fanbase is growing.
He also appreciated getting feedback on how to do hashtags.
And with all the love he's getting, Tim made sure to let fans know he's married.
Hats off to Tim! Read his tweets!
WSET