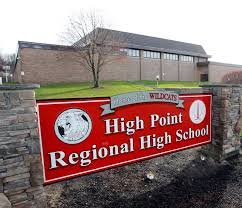 WANTAGE NJ January 14 2019  — A former High Point Regional High School security officer, who accused school officials of demoting him to part-time status so they could put a crony hire on the payroll, has lost his appeal of a trial court's dismissal of a lawsuit he filed two years ago.
In his complaint, Anthony Daniels had accused Superintendent Scott Ripley and former Board President Paul Derin of orchestrating the creation of a new $63,000-a-year security director's position at the school four years ago for retired Jefferson Police Chief Kevin Craig, who was Derin's neighbor at the time.
Daniels, who later was passed over for the security director's position, asserted that Ripley did this as a favor to repay Derin for having arranged for Ripley to receive a pay increase and contract extension a year earlier, in September 2014.
However, a two-judge appeals panel on Friday upheld a lower court's finding that the allegations, even if true, failed to identify a specific public policy that the conduct would have violated.
The panel also found that Daniels, who asserted that he was subject to a hostile work environment for having objected to how the position was created, failed to take the necessary steps to qualify for protection under the state's Conscientious Employee Protection Act, also known as the whistleblower law.
As previously reported in the New Jersey Herald, at the time the opening for the security director's position was posted online on Aug. 25, 2015, no job description for it existed and only nine days were given for interested persons to apply.
Daniels asserted that despite the lack of an official description, the requirements listed in the ad were tailored so narrowly as to ensure that only Craig would be able to meet them.
The following month, in September 2015, the High Point board simultaneously approved a job description prepared by Ripley along with Ripley's recommended hiring of Craig.
In his suit, Daniels alleged he had made known his objection to the "official corruption" by which the security director's position was created by applying for it himself.
Daniels asserted that in addition to never being granted an interview, he and the other full-time security officer on staff at the time were both reduced to part-time status upon Craig's hiring, effectively cutting Daniels' salary of $45,000 in half.
Daniels, who had been employed at the school since 2010, alleged that he was further subjected to a hostile work environment and false evaluations that culminated in his being forced to resign in June 2016.
The appeals panel, however, upheld Superior Court Judge David Weaver's finding in November 2017 that the allegations in Daniels' lawsuit amounted to only "a vague allegation of corruption."
The panel also affirmed the court's prior finding that, by applying for the job but not clearly communicating his concerns to school officials, Daniels was ineligible for whistleblower protection.
High Point school officials later made a pitch last year to the Sussex-Wantage Board of Education, where Craig's wife, Jenny Craig, is now a school board member, that included an offer to provide them free security services if they would also agree to appoint Ripley as a shared superintendent. However, the offer was declined at the time.
Daniels was represented, both in his original lawsuit and in his appeal, by Sparta attorney George Daggett.
High Point and its school board were represented by attorney Eric Harrison, of Edison.
NJ Herald