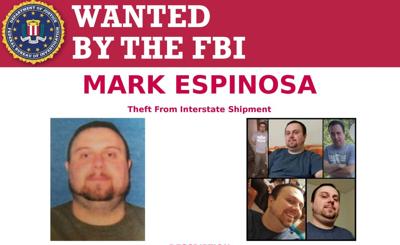 LOUISVILLE, Ky. January 11 2019 A missing armored car driver is now considered a federal fugitive. It's a mystery. Where is he?
Louisville Metro Police and the FBI said a federal arrest warrant has been issued for Mark Espinosa. A wanted poster says he should be considered armed and dangerous.
The 29-year-old vanished last month along with a "large amount of cash," according to LMPD Lt. Steve Kaufling, inside a Garda Armored Truck that was found at the Jefferson Mall on Dec. 5. Investigators will not say just how much cash is gone.
Kaufling said the robbery unit, missing persons unit and the FBI conducted a joint investigation. They determined that Espinosa was not the victim of violence. Instead, they believe he planned the robbery and tried to cover it up.
Police say a federal arrest warrant was issued for Espinosa on Dec. 10. He's charged with theft of interstate shipment. Police say he has family in Texas, Florida and on the west coast. He also has ties to the northeast U.S.
The FBI is offering a $10,000 reward, and Garda Armored Truck is offering a $50,000 reward for the recovery of the stolen money and information about Espinosa.
"Through our investigation, we have ruled out this being a random act of violence," Kaulfing said. "At this time, we believe Mark Espinosa has taken steps to plan out these thefts and has taken steps to cover up this planning."
Espinosa is described as being 5 feet 10 inches tall and 230-235 pounds with black hair. He has a large scar on his right arm from his shoulder to his elbow and a scar on one shoulder.
The Louisville office of the FBI asks anyone with information about the crime to call 502-263-6000.
WDRB