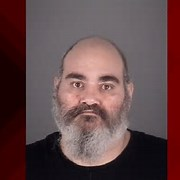 TAMPA FL April 30 2019 A New Port Richey man accused of multiple shopliftings at an area Walmart store that totaled for than $5000 said he has a medical defense to these crimes.
Lawrence Fruggiero Jr. is accused of three thefts at the Walmart in a week but Fruggiero says due to his blood sugar diabetes, he does not always know what he is doing and does not remember stealing from the Walmart on State Road 54.
Store security became aware of the thefts and contacted authorities.
He has been charged with scheme to defraud and was transported to Land O' Lakes Detention Center.