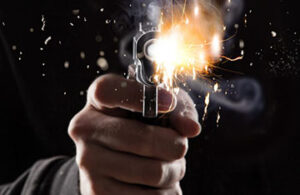 Bradenton, Fla. June 25th, 2022– Security officers watched a woman at a hospital they say as she  was loading a gun in the emergency room.
Blake Hospital employees told police they saw Jamekyra Ulisa Levertt Chapman, 37, loading the gun in the emergency room on Wednesday morning on the surveillance cameras.
Chapman was then approached by a security officer while waiting for to police arrive.
Police say they found a semi-automatic gun with an incorporated laser in Levertt-Chapman's purse.
Officials say she also had three magazines, and a total of 58 rounds.
They held her hands out, stood her up, walked her out of the hospital, and put her in handcuffs. Levertt-Chapman still had an IV in her arm when she was arrested.
Levertt-Chapman has been charged with two felonies, introducing a firearm into a hospital and possession of a concealed weapon without a permit.
A spokesperson for the hospital says they are thankful to all of the officers who responded quickly.