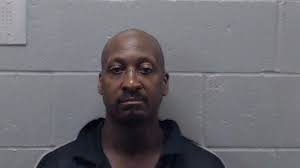 DORAVILLE, Ga. Sept 16 2018—
In a strange turn of events, a man who pretended to be a law enforcement officer working at a Buford Highway lounge and helped lead an officer to an arrest, now finds himself in police custody.
On August 15 police say Eric Stone flagged down an officer patrolling the 5800 block of Buford Hwy to inquire about a gun he seized from a Gibs Jazz Bar and Lounge patron.
According to the Doraville officer, Stone handed him a gun whose serial number had been scratched off, saying it was taken from a Hispanic male as he entered the lounge.
Stone who was impersonating a Gwinnett County officer, was wearing tactical gear, a bulletproof vest and a level 3 thigh holster containing a firearm, as he lead the Doraville officer into the lounge in search of the suspect who's gun was seized.
The suspect, identified as Erik Garcia-Mejia, was found in the lounge's bathroom with the gun's loaded magazine in his possession.
Mejia was also found to be in possession of methamphetamine.
He was arrested and released to Doraville City Jail where he faces charges for possession of methamphetamine and altered ID mark of a firearm.
It was then determined that Stone, a security guard, was in fact not a certified peace officer. He was arrested and faces a charge for impersonating an officer.
It's just the latest in a series of warrants or arrests for people accused of pretending to be an officer.
In one case, a former police officer has been arrested for allegedly claiming he was an active police officer in his current duties working with a local towing company.
Less than a month earlier, a teen was arrested for a seventh time for the crime when he approached a Cobb County home claiming to be a U.S. Marshal.
And just days earlier, in August, a man tried to convince a deputy that he was a federal air marshal but couldn't convince the Troup County law enforcement officer.
Police remind the public that real officers should always provide what agency they work for. In the event that you are unsure of their authenticity – even when driving – experts say you should call 911.
 And if you are being pulled over, immediately turn on your emergency flashers and pull into the next well-lit public place like a gas station.