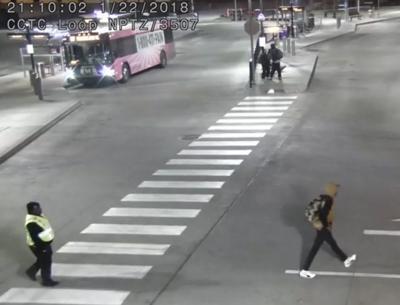 ST. LOUIS MO October 31 2018 A St. Louis teen filed a federal lawsuit against the Bi-State Development Agency Monday claiming he was assaulted by Metro's security guards in January.
Adrian Kleveland Drew's suit says that he was at the Civic Center Station downtown on Jan. 22, intending to head home, when he was approached by security guards and then left.
Drew's lawyer Talmage Newton IV, declined Monday to detail what happened on the station property, but said, "He tried to remove himself from the situation. They escalated it and assaulted him."
Drew, who was then 18, was followed by three security guards, who called him back onto Metro property, the suit says.
Two of the guards hit and kicked him before throwing him to the ground and handcuffing him, the suit says, while the third helped "confine, intimidate and restrain" him.
Two surveillance videos of the incident show a fight, but aren't clear enough to show details of what happened.
Metro security turned Drew over to police, where he was held in jail for 24 hours on "false information provided by Bi-State employees/agents" but never charged, the suit says. He couldn't seek medical attention until the next day, when he was released, it says.
Police records show Drew was arrested for fourth-degree assault.
The lawsuit seeks unspecified compensatory and punitive damages for excessive force, false imprisonment, failure to properly train the employees, and assault and battery.
A Metro spokeswoman declined Monday to comment on pending litigation.
ST Louis Dispatch