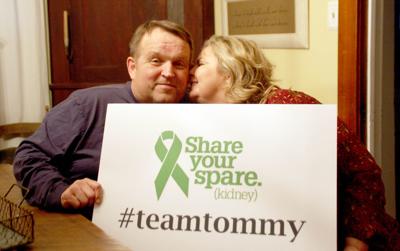 DECATUR IL November 25 2018   — After serving 30 years as a Decatur police officer and working the last three as a Macon County Circuit Court security guard, Tom Butts has been left feeling sick and tired.
That has nothing to do with two careers he loved. It has everything to do with needing a new kidney to replace the two he was born with that are now failing him because of disease.
Butts stays alive through a daily diet of dialysis. Sarah, his wife of 28 years, hooks him up to a machine at their Decatur home that flushes toxins out of his body overnight for eight hours. His blood purified, he can head out for another day but the side effects of fatigue and the feeling of being chronically ill never relinquish their arresting grip on this law enforcement officer.
"I feel like crap," said Butts, 57. "All the time."
So the race is on to find him a new kidney. He blood is Type O-negative, making him a universal donor, but meaning he can only receive an organ from someone with that exact same blood type. His wife has given up her full-time job as resident services coordinator at Eagle Ridge of Decatur assisted-living center to spearhead the search for a compatible kidney. Butts has been on a transplant waiting list since October, and the list's coordinators said it could be a wait of three months or five years.
"My goal now is to get him a kidney, and that is what I am working on," said Sarah, 48. "Tom has been a wonderful husband and father to me and our three children, and he's got a 5-year-old grandson who also thinks his Pops is pretty cool …" she has to pause here, her eyes suddenly shining. "So I can't just sit back and think, 'Oh, woe is me'. I've got to get this done."
Through news stories, word of mouth, online networking and now yard signs and soon a video for Facebook, YouTube and any social media that will have it, she publicizes the kidney quest.
The couple can only guess (and will never know) just how many people have already called the donor line at (314) 362-5365, and gone through the questions and tests to see if they are a candidate. But a life spent doing his best to protect and serve others in a fair, even-handed way has earned Tom Butts many well-wishers who want to reach out and clasp the long arm of the law in a show of friendship.
"I've had a ton of guys I once arrested with the Decatur Police Department come through the screening line at the courthouse and say, 'Hey, I saw you on TV,' and wish me well. It's amazing," Butts said.
His wife remembers waiting with him to get some blood work done at HSHS St. Mary's Hospital when they were approached by a stranger. "She said, 'Are you officer Butts?,' and he goes, 'Yeah,' and she said, 'Can I shake your hand? You saved me,' " recalled his wife.
It turns out Butts, as a policeman, had encountered the woman long ago in what she described as a "really bad place" with bad company. She recalled him as looking her straight in the eyes and telling her,"You don't need to do this, you've got to get away from this." She told him she went on to do just that, going on to live a happy life as a married woman with children and grandchildren.
Sarah Butts added: "The woman told Tom, 'I never thought I would see you again, and I just want to say thank you, you saved my life.' "
Now it's someone else's turn to save his.
herald-review