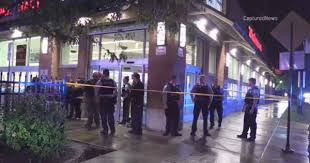 CHICAGO IL June 14 2019 Police say they have identified a person wanted for questioning after a man who claimed to be a Chicago police officer shot and killed a woman inside a Walgreens store in the Belmont Cragin neighborhood overnight.
Police have said the shooter wasn't an officer at all but was a security guard.
Around 11:30 p.m., a woman in her 30s was shoplifting at the Walgreens at Cicero and Fullerton, when the manager confronted her, according to police.
Another man in the store also started talking to the woman, and the situation escalated into a fight.
That's when the man who intervened, now believed to have been a security guard, pulled out a gun and shot the woman in the head. The woman was taken to Mount Sinai Hospital, where she was pronounced dead.
Investigators said they have clear surveillance video of the shooter's face and vehicle.
Police Department spokesman Anthony Guglielmi said police have identified a person of interest wanted for questioning.
No one was in custody Thursday morning.