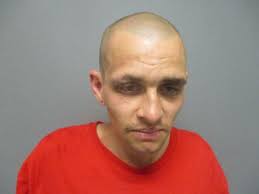 FAIRVIEW HEIGHTS MO May 16 2018 A felon attacked two MetroLink public safety officers at a station here after they tried to remove him from a prohibited area near the tracks, according to police.
Joshua R. Efken, 35, was charged with two counts of aggravated battery after the attack early Friday morning. Bail for Efken, who was already wearing a GPS tracking device as part of an earlier statutory rape conviction, was set at $100,000.
Efken got off a train at the Fairview Heights station about 1 a.m. Friday, left the platform and approached the tracks in a prohibited area, according to police. Two officers told him to leave, but he refused and shouted expletives at them.
When they tried to take him into custody, he punched and kicked at the officers, police said. One officer was hit in the face and had swelling around his eye.
Fairview Heights police arrived as the MetroLink officers were bringing the man under control.
Efken is on the Missouri sex offender registry after he pleaded guilty in 2007 of statutory rape. He was 24 at the time of the crime; the victim was 13.
He initially received a suspended sentence, but was in and out of prison after violating the terms of his probation. He was last released from prison in October 2016, and was put on lifetime supervision. Late last year he was charged with burglary, and was supposed to appear in St. Louis County Circuit Court for a pre-trial conference on the day he was arrested in Fairview Heights, according to court records.
The registry lists his address in an apartment building on Little Rock Road, near the Interstate 55/Interstate 255 interchange in South County.