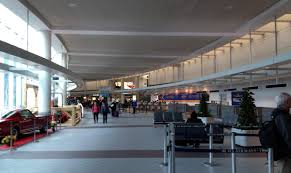 LONDONDERRY NH Aug 11 2019 — Police have charged an airport security guard with simple assault after he allegedly harassed and touched a Dunkin' worker inappropriately in the Manchester-Boston Regional Airport last week.
Jeffrey Betterini, 54, of Epping turned himself in on a warrant Wednesday.
Police say he is accused of sexually harassing a young woman since April, and hitting the woman's buttocks while getting off the airport escalator that led to the Dunkin' counter.
The alleged victim, a 19-year-old woman, told police the assault took place on July 30 and she reported it the same day. Due to the sexual nature of the alleged crime, the Union Leader will not publish the victim's name.
After allegedly hitting the woman, Betterini made some lewd comments to her while in line ordering a doughnut, police said.
The woman told police she was very uncomfortable, and fearful because the harassment had escalated to physical contact.
When police interviewed Betterini, he admitted to hitting the woman's behind with a metal baggage scanner, and described their interaction as "banter," police said.
The investigator says they reviewed security camera footage of the incident, which was consistent with the woman's account.
Londonderry Police Capt. Patrick Cheetham said Betterini was employed by the private security firm Allied Universal.
According to a company spokesman, Betterini has been suspended pending an investigation.
Betterini is scheduled to be arraigned on Aug. 22 at Derry District Court.
union leader