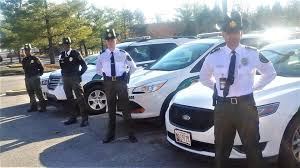 Baltimore MD May 14 2019
An investigation into the safety of the Baltimore Harbor by a Maryland news station has produced shocking and illegal activities by a contracted private security firm.
7 On Your Side I-Team has discovered National Harbor's security contractor, Metropolitan Protective Services Incorporated or MPSI, hired Gerald Griffith, a convicted Tier 3 child sex offender, to train workers in charge of security at the Harbor during the past Christmas holiday.
"It's beyond unbelievable," says Brian Askew who is an MPSI security officer who in the past has patrolled National Harbor.
Last March, 28-year-old Rondell Henry, of Germantown, Maryland, was arrested in connection to an alleged plan to drive a stolen U-Haul truck into a crowd at National Harbor. That truck was discovered at the Harbor.
The news team began to wonder who was protecting the National Harbor and they began to dig a little deeper.
A National Harbor represented responded via email that:
"National Harbor takes the security of its residents, visitors and those employed on the property very seriously. We maintain a 24-hour command center that houses Prince George's County Police, Fire and EMS, and an extensive camera network. The property has used Metropolitan Protective Services to handle day-to-day security. Per the National Harbor/MPS contract, MPS is responsible for all background checks, hires, payroll, and certifications of their employees and consultants.
Through this high level of security, we've been able to prevent security threats and keep National Harbor safe for the millions of people who live, work and visit each year. We will thoroughly investigate any allegations regarding security and take any necessary actions to ensure public safety."
But reporters found that their contracted security provider had an employee by the name of Gerald Griffith who is a sex offender. Court records show Griffith was convicted on 3 counts of sexual abuse of a minor in 2007 while serving as a church's pastor.
MPSI declined to answer our questions on camera but John Cpin, a representative from Metropolitan Protective Services Incorporated emailed a response to 7 On Your Side questions about Gerald Griffith:
MPSI did contract a consulting firm to teach trauma-informed care leadership management skills to MPSI managers. This firm came highly recommended to MPSI by a high ranking Prince George's County Police Department official. This firm worked for approximately 8 hours, MPSI did not believe his firm was a good fit and terminated the contract. The fact is we hired a firm to provide leadership training, they provided us with someone, an executive of MPSI conducted a background check and MPSI terminated the contract. It is unfortunate that you are attempting to destroy the reputation of a 22-year-old business, a company that has been recognized by P.G. County Police Department and other reputable agencies. As a result of your negative accusations of this company, I can ensure that MPSI will lose contracts and people will lose their jobs. If this was not the case your storyline would reflect the award ceremony held on May 6, 2019, by MPSI, the National Harbor, and the P.G. Police Department to recognize MPSI Guards assigned to the National Harbor that assisted in the deterrence of a terrorist attack on the National Harbor April 8. Your storyline would include the brave MPSI officer that climbed up the side of a building to save someone attempting suicide. Your storyline would include the heroic MPSI officer that found an Ak-47 in the stairwell and prevented an attack. However, it does not. Your story doesn't tell the public the stories of our 500 employees but instead just another example of how the media exaggerates negative news to manipulate the public.
But the Prince George's County Executive Office says:
"To the best of our knowledge, after conferring with leadership in the Department, no high ranking official from the Prince George's County Police Department recommenced any firm to MPSI."
Dwight Cox, MPSI's former National Harbor Security Project Manager, says red flags popped up when he came face to face with Griffith in a meeting at National Harbor.
"I actually went on LinkedIn and could not find him. So let me just Google him. So I used a Google App and to my surprise, I saw he was a registered Tier 3 sex offender in the state of Maryland," says Dwight Cox.
Reporters tracked down Gerald Griffith in Bowie, Maryland.
"I would like to talk to you about the National Harbor. Are you available?" asks I-Team Reporter Scott Taylor.
"No," says Gerald Griffith in the front yard of a home as he walks into a garage and pushes a button to close the garage door.
"Can you tell me what you did at the National Harbor? We would like to talk to you. Just answer
According to its website, MPSI supplies security at many locations including McDonald's, Bowie State University, MGM Casino and over at the Purple Line where another man, Jonathan Davis, a convicted felon patrols at night.
Bowie State University reacted to MPSI's website naming the University as its client:
"We have reviewed our records and found no evidence of MPSI providing security services to Bowie State University."
MPSI calls Davis a contracted construction surveillance technician but ABC7 caught on video Davis getting into the same marked vehicle security guards use at National Harbor.
Court records show Davis pleaded guilty to Burglary in 2011. State Police say he doesn't have a required security guard certification.
Davis walked up to our camera and Scott Taylor asked, "Do you have a license to be a security guard?"
"Yes, I do," says Davis.
"According to the State of Maryland you don't," says Scott Taylor.
"Oh. Ok," adds Davis.
"Are you a convicted felon?" asked Scott Taylor.
"Oh, who knows?" answers Davis.
Purple Line Transit Constructors subcontracts security of the Purple Line to MPSI. It says it only recently was informed that Davis is not certified and adds MPSI assigned him to the project, without the Purple Line Transit Constructor's knowledge, to provide security services when other certified security personnel was unavailable.
Purple Line Transit Constructors email:
"Purple Line Transit Constructors' (PLTCs') contract with Metropolitan Protective Services (MPS) requires that all security personnel assigned by MPS to the Purple Line project are certified through the Maryland State Police Licensing Division. PLTC only recently was informed that Mr. Davis is not certified and that MPS assigned him to the project, without PLTC's knowledge, to provide security services when other certified security personnel were unavailable. PLTC has informed MPS that they are not meeting the requirements of the contract and that Mr. Davis, or any other individual, is not permitted to perform security services on the PLTC site without certification. Any further questions regarding this matter should be directed to MPS."
John Undeland Communications Director Purple Line Transit Partners
MPSI emailed a response to ABC 7's questions regarding Jonathan Davis:
MPSI does not speak publicly about our employees or vendors. MPSI does not have a record of said employee patrolling the National Harbor and said an employee is employed by MPSI as construction surveillance technicians.
MPSI not only provide security services but an array of other services to include valet, concierge, construction surveillance technician, etc.
It is the policy of MPSI and Maryland State law that a security agency may provide an uncertified individual for hire as a security guard if the security guard agency has submitted to the Secretary the application of the individual for certification as a security guard, fingerprint cards, and records fee as required under 19-402(b). Maryland state law does not specify the time an application has to be submitted, only that one has to be submitted. Additionally, once an application is submitted the turn around time of receiving said certification is not specified. An application being denied and then approved within a month means that something was missing from the application or filled out incorrectly and needed to be resubmitted if it was for a negative reason the application would not have been approved.
Gerald Griffith and Jonathan Davis have not been charged with any wrongdoing regarding their work at MPSI.
Both Brian Askew and Dwight Cox have discrimination complaints filed with the Maryland Commission on Civil Rights against MSPI and National Harbor. Askew has filed a federal lawsuit against MPSI.
MPSI has filed a criminal complaint against Dwight Cox, accusing him of theft and unauthorized removal of employee records. His next appearance in court is in June.
This investigation was conducted by news station WJLA of Maryland.