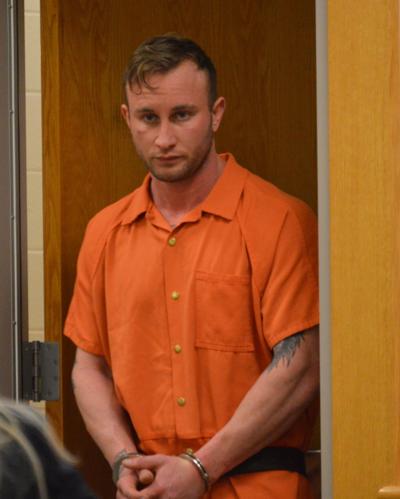 PLAISTOW MA November 22 2019— A Massachusetts man is facing charges after he allegedly brandished a knife when security employees asked him to leave the Crow's Nest Bar and Grill Saturday night.
Derek Vadala, 27, of North Reading was charged with two counts of felony criminal threatening with a deadly weapon and misdemeanor simple assault after officers responded to the business at 181 Plaistow Road (Route 125) just after 11 p.m. to investigate a report of a man waving a knife in the parking lot.
Witnesses told police Vadala was being disruptive and that when Crow's Nest security employees asked him to leave he allegedly brandished the knife, police said. He allegedly threatened the employees and "chest bumped" a security worker, police said.
Police said Vadala left in a silver Volvo before officers arrived, heading northbound on Route 125, but he was found a short distance away when officer Edward Barrasso stopped his vehicle and arrested him.
Police recovered a small black pocketknife from Vadala, who told officers that it was in his pocket, police said.
In a police affidavit, officer Kyle Coakley wrote that Vadala told police that "20 guys" had tried to attack him. He claimed that he "didn't do anything" and was defending himself with the knife, police said.
Two bouncers told police later that Vadala had been causing issues throughout the night, including "picking fights" with random people, police said.
The employees warned him to stop or he would be asked to leave, police said. Two women reported later that Vadala was harassing them, police said. Vadala was then told to leave, but police said he was "apprehensive and refused to leave."
After he "chest bumped" one of the bouncers, police said, Vadala pulled out a knife from his pocket, showed it to them, and repeatedly said "let's go" in a "threatening manner to incite a fight," police said.
Vadala eventually went outside and pulled the knife out again before leaving the scene, police said.
Police said Vadala was not cooperative and was transported to the Rockingham County jail where he refused the services of a bail commissioner.
His public defender entered not guilty pleas on his behalf at his arraignment Monday afternoon in Rockingham County Superior Court.
Vadala was released on personal recognizance bail and ordered to stay away from the Crow's Nest.