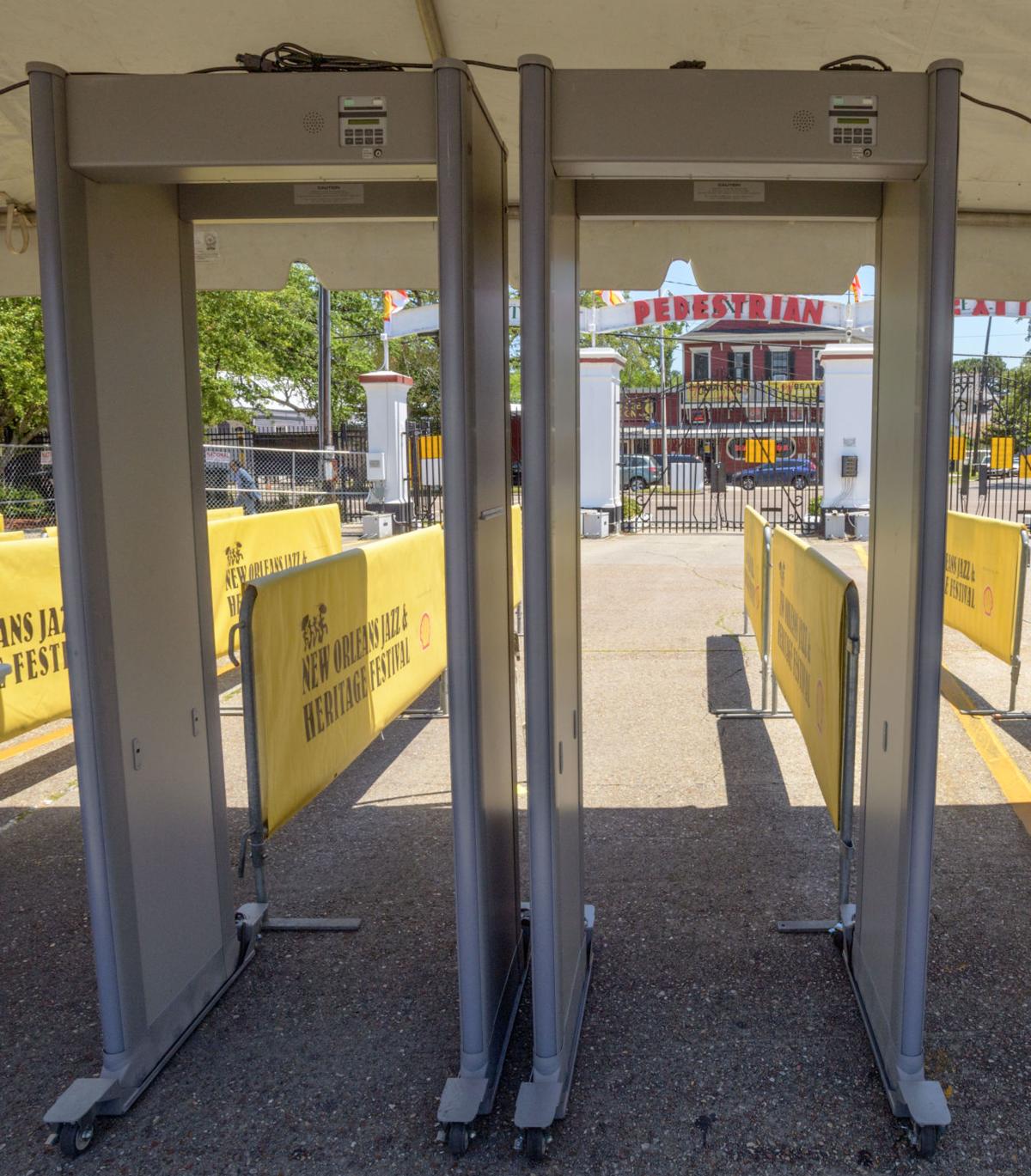 New Orleans LA April 27 2018 Something other than music and food will greet New Orleans Jazz and Heritage Festival attendees this weekend: metal detectors.
In a concession to modern-day reality, all fest-goers will have to pass through metal detectors at entrances to the Fair Grounds, a first in the festival's 49-year history.
"It somewhat reflects the times," Jazz Fest producer Quint Davis said this week. "We don't want Jazz Fest to be any less safe than anyplace else."
Overall, he said, Jazz Fest's security measures "have been way ahead of the curve. But metal detectors are another step."
How they will affect the wait time for getting into the festival remains to be seen. Tens of thousands of fest-goers pass through the festival gates daily.
Fourteen walk-through metal detectors are stationed at the Sauvage Street pedestrian entrance. The Gentilly Boulevard gates are equipped with 11. Others are positioned throughout the site.
Davis believes delays at the metal detectors will be minimal, and that most patrons — especially those who remove their keys and cell phones — will be able to pass through quickly.
On the back side of each machine, two rows of lights pinpoint exactly where on a person a metal object has been detected. Security guards will then scan that area.
There will be an "express" entrance line for attendees without any bags, as well as an ADA-configured line for people in wheelchairs.
Following the terrorist attacks of Sept. 11, 2001, in New York and Washington, D.C., Jazz Fest instituted far more robust security procedures and protocols, including bag searches. More law enforcement officers, both uniformed and plainclothes, were deployed. Festival staffers and emergency officials held crisis control meetings, and planned responses to potential incidents wherever they might occur on the site.
Those ramped-up measures remain in place, Davis said. They include concrete barriers at the Gentilly Boulevard pedestrian entrance meant to stop vehicles from plowing into crowds.
The addition of metal detectors, then, is the next logical step.
the advocate