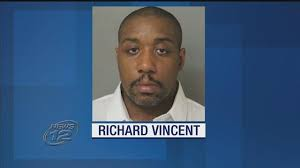 MOUNT VERNON NY July 11 2019
A licensed security guard has been indicted in the murder of a man whose body was found in a Mount Vernon basement.
Westchester County District Attorney Anthony A. Scarpino says Richard Vincent, 40, of Mount Vernon was indicted by a Westchester County Grand Jury on both murder and manslaughter charges.
Police say he fatally stabbed Randy Streete multiple times in the neck and arm this past March. The 39-year-old's body was found on the bedroom floor of his basement apartment on South Sixth Avenue by his girlfriend.
Investigators have not released a motive but believe the two were old high school classmates.