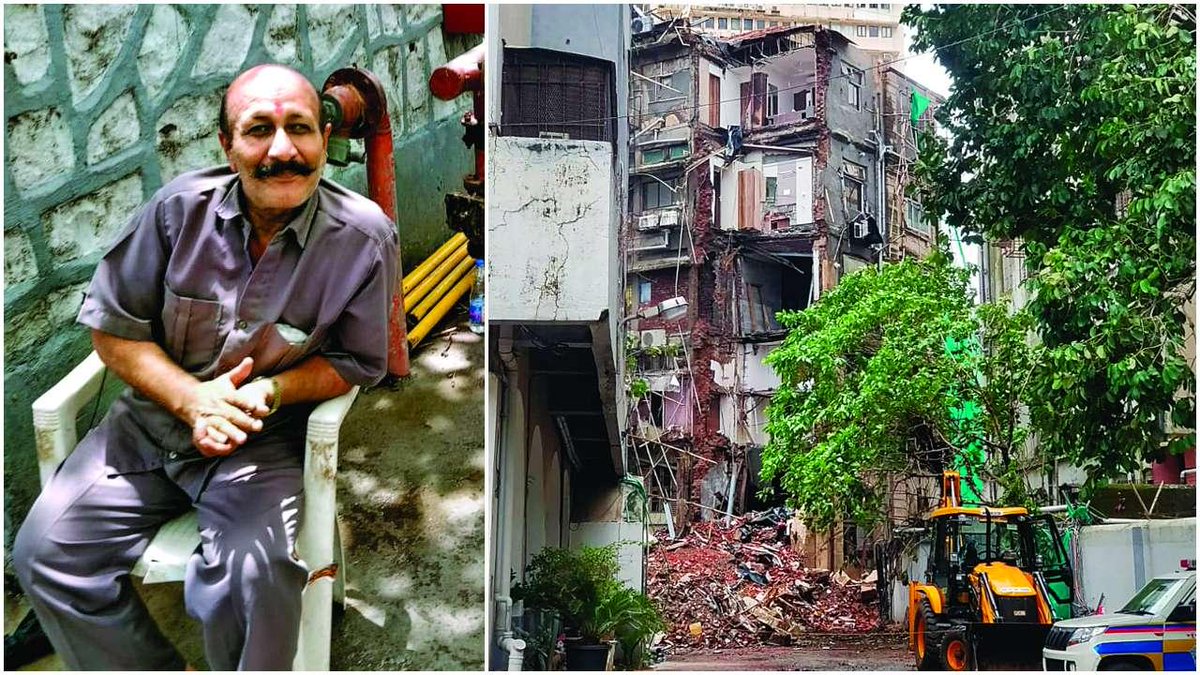 South Mumbai India July 11 2019
A security's guard's watchfulness has saved many lives in a South Mumbai locality.
Ramashankar Shukla, the 55-year-old who keeps watch at a housing society in Charni Road, spotted a crack in a neighbouring building just in time for its occupants to be evacuated before a part of the building collapsed.
After the guard raised the alarm, the Brihanmumbai Municipal Corporation (BMC) officials were informed and they rushed to evacuate the residents of the dangerous building, Nuseer House.
After the evacuation, a portion of the building gave way, but all had escaped unhurt.
Ramashankar works in Mehta Mahal, whose residents now plan to reward his alertness.
"I was on duty on Monday, and around 7 in the morning I found a big crack which had developed in the base of Nuseer House. I immediately informed the secretary and chairman to take action to ensure that residents are safe and the building doesn't collapse on them," said Ramashankar.
"Residents of our society gathered immediately and they helped Nuseer building's occupants inform the BMC about the building's condition," added Ramashankar.
"We also sent photos to the ward officer on his WhatsApp number. BMC officials then rushed to the spot. In the evening around 7 pm, a portion of Nuseer building caved in, but luckily, no one was injured. All thanks to our security guard's alertness," said a resident of Mehta Mahal.
As per Nuseer House's tenants, the four-storey building is 50 years old. There are 15 families and seven shops in the buiding.
"The building is owned by VM Vora Charitable Trust and he wants to demolish the structure. Only 30% of it building is weak and the remaining part is strong. So there is no need to demolish the structure," said a tenant.
BMC Assistant Commissioner Vishwas Mote vacated the building before the partial collapse. He has also given instructions to engineers to inspect the structure and submit a report at the earliest.