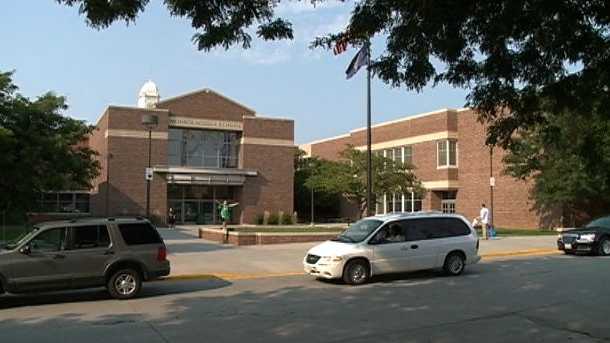 OMAHA, Neb. October 10 2018
Omaha Public Schools says it has ended its association with a security guard accused of placing a 13-year-old male student in a choke-hold during a lunchroom disturbance at Monroe Middle School.
In a statement, OPS tells KETV NewsWatch 7 it is cooperating a law enforcement investigation.
According to a letter sent to Monroe school families, a "heated disagreement" took place Friday, October 5th in the school lunchroom. As a security guard stepped in to separate two students, one of the students alleges the security guard "inappropriately restrained him."
In a police report obtained by KETV NewsWatch 7, the boy's mother, Ann Amiot, told police her son was placed in a choke hold by the school security officer, that "lasted for over one minute". Amiot said the response was over the top.
"He had bruises on both of his forearms. He had scratches on his neck and his lower part of his jaw was swollen and red," Amiot said.
The boy's mother says her son had a "tough time breathing and was told to calm down by school staff."
The boy's mother said the 13-year-old boy is 4'8″ tall, and weighs 106 pounds.
Amiot wants the man to see jail time.
"I want charges pressed, I don't want him feeling like he can get away with this to any child," Amiot said.
She said her son was reluctant to return to school on Monday following the incident.
"It was a fight. He didn't want to go. I was getting phone calls every hour (saying) he wanted to come home, he didn't feel safe there and he didn't want to be there no more," Amiot said.
OPS declined to name the security officer, but it notes some OPS security guards are contracted through outside organizations.
According to the statement: "Following our preliminary investigation, we have made the decision not to have the security guard continue to work for Omaha Public Schools."
As of Tuesday, there was no indication of any arrest or citations in the case.
Omaha police said they are still investigating.
ketv.com