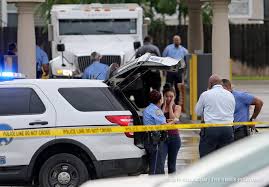 New Orleans LA October 9 2018 One of three men charged with killing an armored truck guard during a botched robbery outside a Mid-City bank last year apparently is ready to plead guilty — and likely to cooperate with prosecutors' case against his co-defendants.
Deltoine Scott, 25, is set to appear at a change of plea hearing in New Orleans' federal courthouse Tuesday, a strong sign he intends to admit guilt as part of a deal with prosecutors rather than stick with the not guilty plea he entered following the May 31, 2017, slaying of Loomis employee Jimmy McBride.
It is not clear to what charges Scott may be pleading or what the terms of his expected deal are. But in cases of this nature, prosecutors typically demand cooperation against others who are charged.
In this case, Scott is charged alongside his friend Jerome Kieffer and that man's father, Armstead Kieffer. All three have been scheduled to go to trial Oct. 22.
Scott's attorney, Benny George, said Monday, "What I am doing tomorrow is in the interest of my client, and I have to think for the welfare of my client first."
According to authorities, Scott and Jerome Kieffer were each wielding pistols when they ambushed McBride and two other Loomis employees near drive-through ATMs outside Campus Federal Credit Union in the 400 block of South Galvez Street. Armstead Kieffer allegedly acted as a lookout.
The two robbers scooped up a moneybag that the guards dropped and ran to a getaway car. But Jerome Kieffer, 25, returned to the Loomis guards' armored truck after realizing there was no money in the bag, a prosecution team led by Assistant U.S. Attorney Michael McMahon has said.
McBride was fatally wounded as one of his co-workers exchanged gunshots with the robbers, prosecutors said. The robbers fled without getting a dollar.
Investigators received a break in the case when New Orleans police pulled over Scott's grandfather, Charles Mitchell, that night as he drove the getaway truck, which was recognizable for its distinctive paint job — a black hood and bed with white doors.
Mitchell told authorities he had let Scott borrow the truck for most of the day. Investigators then recovered surveillance camera footage as well as cellphone records that implicated Scott and the Kieffers in the deadly robbery attempt.
In addition, it was learned that Jerome Kieffer had rented a fourth-floor apartment that overlooked Campus Federal's ATM during the month prior to McBride's killing.
He, his father and Scott were all ultimately arrested and charged; they could face life imprisonment if convicted.
The day McBride died was not the first time the Kieffers and Scott worked together, prosecutors have alleged. The three are also accused of robbing a Brinks armored car at gunpoint in the parking lot of a Chase Bank in the 1400 block of North Broad Street nearly two years earlier.
Armstead Kieffer, 54, was previously acquitted of involvement in a 1993 robbery that resulted in the fatal shooting of a car stereo shop owner.
The widow of an armored truck guard who was fatally shot during a botched robbery outside a Mid-City bank last year filed a lawsuit Thursday a…
The Kieffers have pleaded not guilty in the 2017 crime.
Jerome Kieffer is represented by Nicole Burdette and Jason Williams, a New Orleans City Council member. The attorney for Armstead Kieffer is John Fuller.
They didn't comment on Kieffer's impending plea in front of U.S. District Judge Ivan Lemelle.
Prosecutors have never said publicly who they suspect shot McBride, 33. But they decided not to pursue the death penalty against Scott and the Kieffers, which could mean they think McBride was shot accidentally by one of his co-workers.
On the other hand, prosecutors are seeking the death penalty against a group of men accused of intentionally shooting and killing Loomis armored truck guard Hector Trochez during an unrelated stick-up outside a Carrollton bank in December 2013. That case is slated to go trial next year.
theneworleansadvocate.com