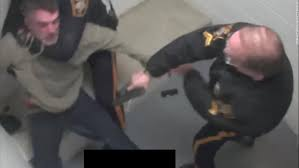 DOYLESTOWN, PA April 17 2019 A Pennsylvania police officer shot an inmate because he mistakenly used his gun instead of his Taser, according to a statement from the Bucks County district attorney's office.
The inmate, Brian Riling, was shot in his stomach and was hospitalized. Since the shooting, Riling has been released in stable condition.
Detectives from the District Attorney's office were appointed to investigate the case, using this video shot inside a holding cell.
Riling was initially arrested after charged with burglary, and intimidation and retaliation against a victim, according to the district attorney's statement.
The video shows Riling taking his belt off while the officer moves inside his cell. However, when a white, rectangular object fell from his pants to the floor, Riling puts his foot on top of it. The object was "consistent with a drug baggie," according to the district attorney's statement.
After some tussling between the two men, a second officer enters the cell and yells "Taser," then shoots Riling in the stomach. Then the two officers leave the cell.
District Attorney Matthew D. Weintraub said that the officer will not face charges for the incident, according to the district attorney's statement.
"After careful consideration, I have determined that [the] shooting … was neither justified, nor criminal, but was excused," Weintraub wrote in a letter to New Hope Police Chief Michael Cummings.
The official involved in the shooting was not identified because he wasn't officially charged. However, he was placed on paid administrative leave and retired from the department on April 10, according to the statement.
The video concludes with Riling on the floor, saying, "I don't want to die, dude," and
ABC 15