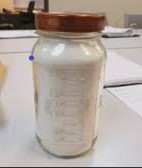 PINEVILLE, N.C. November 7 2019 — Hundreds of grams of meth were found inside a pasta jar in a car outside a mall, Pineville Police said.
When officers responded to Carolina Place Mall for a larceny call, they searched the suspect's vehicle and found what looked like alfredo sauce.
They soon discovered the jar was filled with 937 grams of methamphetamine. We're told the street value was worth close to $60,000. Police arrested the suspect.
This isn't the first time NBC Charlotte has reported on an unusual drug bust.
In Charleston, a consignment shop mistakenly sold a box of LEGOs with thousands of dollars worth of meth inside. In Texas, police also confiscated meth-laced lollipops.
Law enforcement said large drug busts like this can be life-changing for those easily addicted.
"I'm ecstatic that's a lot of potential addicts and people we save," Iredell County Sheriff Darren Campbell said.
The National Survey on Drug Use and Health reports meth is one of the most commonly misused stimulant drugs in the world.