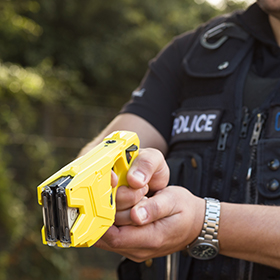 Pasadena CA Feb 13 2018 Police used a Taser to subdue a combative suspect they say attacked a security guard at an Old Pasadena beauty supply store on Friday, authorities said Saturday.
Morgan Henry, 49, described as a transient, was jailed on suspicion of assault and assault on a peace officer following the incident, which began about 11:45 a.m. at Sephora, 13 W. Colorado Blvd., Pasadena police Lt. Willliam Grisafe said.
The suspect entered the store and began causing a disturbance, the lieutenant said. When a security guard confronted him, Henry punched him in the face and ran away.
Officers soon spotted Henry walking along Colorado Boulevard, just west of Fair Oaks Avenue, Grisafe said.
Henry threw at least one item, believed to be a metal beverage container, at the officers and continued fleeing, he said. He missed the officers.
"Officers gave chase," the lieutenant said. "They confronted him. He became combative, at which time a Taser was deployed."
Henry was then taken into custody.
Police took the suspect to a hospital to be examined because of the use of a Taser, Grisafe said. The security guard suffered swelling, but did not wish to be taken to a hospital.