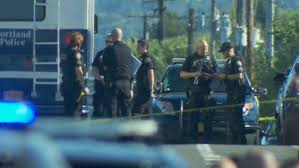 PORTLAND, Ore. July 31 2019– A suspect was shot and killed by an officer in Southeast Portland on Tuesday afternoon.
Police said around 4:20 p.m. they received a report from a security guard near 122nd Avenue and Glisan about a man trying to break into a car. They said they were told the man had an "edged' weapon.
Witnesses told KATU News they saw a man walking around, waving an ax. They said arriving officers used "beanbag rounds" on the man before he got up and ran off. The witnesses said they then heard gunshots.
At one point, an officer opened fire, killing the man at 120th and Ash, police said.
Police have released few details about what led up to the shooting.
Video from an eyewitness obtained by KATU News showed the moments leading up to the shooting.
A man carrying what appears to be a green hatchet can be seen walking near the crime scene. The man is shouting, but it's hard to make out what he's saying. A short time later, several officers run toward him.
Timothy Allen, who shot the video, said the man was first shot with bean bags
Another witness, who didn't want to be identified, said she heard around six gunshots.
Police confirmed officers fired less-lethal rounds at the man, but didn't have a number on how many rounds were fired.
The suspect died at the scene.
No officers were hurt.
Police couldn't say Tuesday night whether a weapon was found.
The officer who opened fire was placed on paid administrative leave, which is standard procedure in police shootings.
KATU