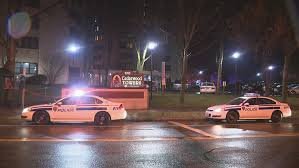 Rochester, N.Y. January 10 2019 Police said a security guard shot and killed a Rochester man outside an apartment complex on East Main Street late Tuesday night.
Police were called to East Main Street near Jersey Street around 10:30 p.m. Tuesday for the report of a shooting.
According to police, an on-duty security officer at the Cedarwood Towers Apartment complex was addressing a report about an unruly tenant made by other tenants in the complex.
Witness and video surveillance footage show 26-year-old Bradley Thomas threatening other individuals in the lobby.
The security guard, whose name has not yet been released, confronted Thomas in the lobby of the complex.
The situation escalated between Thomas and the security guard until, in the parking lot of the complex, it became physical.
Police said the security guard fired his handgun once, hitting Thomas in the upper body. The firearm was legally owned by the security guard.
Thomas was taken to Strong Memorial Hospital and died there a short time later.
The Monroe County District Attorney's Office is now considering the case after the Rochester Police Department interviewed witnesses and reviewed surveillance footage.
Police have a suspect in custody. No one has been charged.
An area near Cedarwood Towers was blocked off for several hours as they investigated, but the area has since reopened.
WHAM