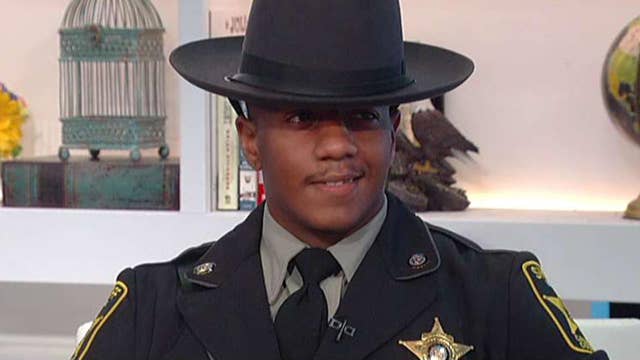 Calvert County MD Aug 31 2018 An aspiring law enforcement officer's career was nearly derailed for carrying a legally-owned firearm, but he was able to receive a pardon and achieve his dream.
Steffon Josey-Davis was cleaning his gun at his home in North Brunswick, N.J., back in September 2013 when his six-year-old sister walked in.
He didn't want her around the gun, so he said he put the firearm in his glove compartment and forgot about it.
Hours later, Josey-Davis was pulled over, and he told police that he had a gun in his glove compartment. Police took the gun and told him to pick it up the next day.
When he showed up for his gun, he was cuffed and charged with unlawful possession of a firearm.
Josey-Davis, who had been working as an armed security guard and dreamed of becoming a police officer, legally purchased the gun, but did not yet have the permit to carry it.
He was threatened with five to ten years in prison.
He took a plea deal and was convicted of a second-degree felony for unlawful possession of a firearm, which dashed his dreams of becoming a cop.
Then, in June 2015, then-New Jersey Gov. Chris Christie (R) issued a full pardon after a robust social media campaign, including a Change.org petition that attracted thousands of signatures.
After graduating from the police academy, Josey-Davis is now a deputy with the Calvert County Sheriff's Office in Maryland.
On "Fox & Friends" on Thursday, Josey-Davis said he's thankful that he has been given the opportunity to serve the community.
"It's just a blessing," Josey-Davis said. "I'm going to use what I've been through, and be able to help other people get through the same thing and be able to be a positive role model for the community."
FOX News