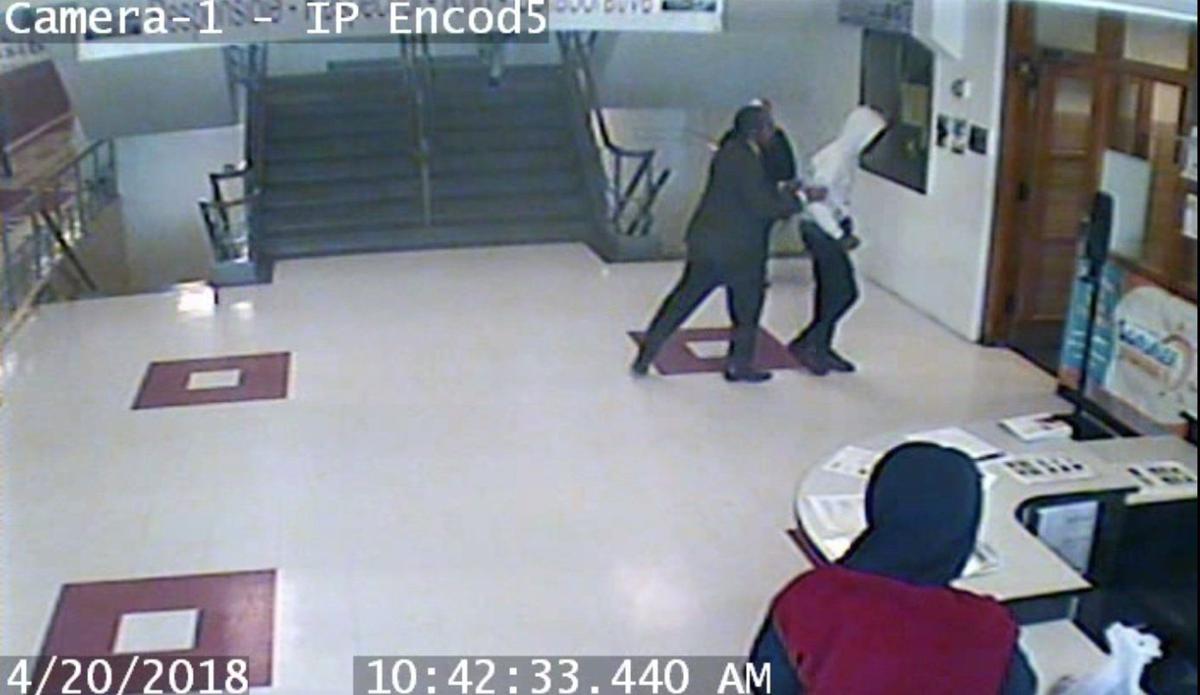 Normandy MO May 10 2018 On Jan. 10, a Normandy middle school security officer scuffled with a student who would not go to art class. The officer said the student had threatened to "knock him out," according to a police report. They fell to the floor. The assistant principal broke up the fight.
On Feb. 16, a different Normandy middle school security officer launched a stream of pepper spray to break up a parent fight outside the school, according to a police report. Her pepper spray flew into the eyes of the school resource officer, who left to rinse his face.
On March 8, a Normandy security officer tried to handcuff a student who wasn't following her teacher's directions and who was cursing and threatening the officer. They scuffled until an educator intervened.
And on April 20, the head of Normandy's security department, Fred Abernathy, was arrested by Normandy middle school's own school resource officer for allegedly using a stun gun on a student who was leaving to go home during the school day.
Security officers in St. Louis County are not authorized to use stun guns.
Moreover, as of April 30, all of Normandy's school security officers are barred from carrying any protective device, which can be a firearm, baton, pepper spray or Taser, St. Louis County Police Sgt. Shawn McGuire wrote in an email. He said police found that at least some of the 15 Normandy security officers have been carrying unauthorized "protective devices."
District policy prohibits anyone other than an authorized law enforcement officer from carrying a gun, concealed weapon or any weapon capable of deadly use on school grounds.
Abernathy, 63, has been charged with fourth-degree assault, a misdemeanor. The school district placed him on unpaid administrative leave and St. Louis County police suspended his security license.
Abernathy's arrest was a wake-up call to district administrators, who say they are now finding weaknesses in the security department that had been allowed to persist under Abernathy's leadership. Abernathy has worked for Normandy since 2005.
"We are currently working directly with the St. Louis County Police Dept. to improve procedures and to standardize training for all members of the department," wrote Assistant Superintendent of Operations Randal Charles in an email to the Post-Dispatch.
Normandy could not provide the Post-Dispatch a list of equipment provided to security officers. County police records obtained through a Sunshine Law request show that several district security officers are licensed to carry firearms, batons, Mace or handcuffs.
County police records also indicate that 12 people are licensed as security officers in Normandy schools. The district says it employs 15 officers.
Normandy school security officers used force at least four times this year. Yet district officials said they had no use-of-force reports on file for the past seven years, even though St. Louis County requires any use of force by a security officer to be reported to its licensing department. St. Louis County police has just two use-of-force reports on record for Normandy school security officers dating back seven years.
The district has settled lawsuits, all filed in 2012, that accused Normandy security officers of giving a student a concussion, rupturing another student's heart and pushing a student to the ground and pummeling him.
The officer who allegedly caused a student's heart rupture is still licensed as a Normandy security officer, according to St. Louis County police records.
In an emailed statement, Normandy spokeswoman Sharifah Sims-Williams said the four times security officers used force this year were "unfortunate, yet isolated, incidents in our district."
"Students have positive relationships with our security staff, teachers and administrators," she said. "However, we realize that when these situations do arise, we need to ensure teachers and staff are trained to resolve these conflicts using current best practices in a positive and effective manner."
Sims-Williams added that Normandy is evaluating its security department to determine proper protocols and equipment requirements. "This is an opportunity for us to improve the service we provide to our students, families and staff," she said in an email.
At Normandy schools, security officers are often stationed at front entrances. They sign people into buildings and, at certain schools, screen students and visitors through metal detectors. Security officers enforce traffic and parking rules and watch campus grounds.
A large chunk of a Normandy security officer's job also centers on disciplining and managing students. Security officers monitor student behavior, check for hall passes, help police with "matters of crime and delinquency," enforce conduct rules and take students to the office after inappropriate behavior, according to a Normandy school security officer job posting published last month.
This job description distinguishes security officers from school resource officers, who are police officers employed by a police agency. Unlike security officers, school resource officers are placed in schools to enforce laws, not school discipline. They are also meant to "be a resource" to students and staff, and build relationships.
Sims-Williams has described security guards as "peacekeepers." The district relies on them to keep the learning environment safe for students and staff. Security officers build relationships with students, too.
But others see them as agents of school discipline, punishment and sometimes violence that targets students of color through a lens of racial bias. Security guards tend to be employed at schools with mostly students of color.
The vast majority of St. Louis-area districts had no security guards but at least one law enforcement officer, according to 2015 U.S. civil rights data. Area school systems that employed the most security guards were majority black and low income: St. Louis, Ferguson-Florissant, Hazelwood, Riverview Gardens, Normandy and Confluence Academies, a city charter school system.
Normandy School District spent about $718,000 on salaries and benefits for 13 security officers last school year, according to a copy of the district's general ledger. In addition, the district has six school resource officers spread among five of the district's eight schools through a $750,000 grant from the U.S. Department of Justice.
Normandy security officers participate in monthly in-house professional development sessions, plus training offered by outside organizations and district programs on topics such as how to work with traumatized students, Sims-Williams said.
However, Normandy's security department budget and general ledger show little spending for training the last two years. Only Abernathy was reimbursed by the district for attending a school safety conference held by the Missouri School Boards' Association.
St Louis Dispatch