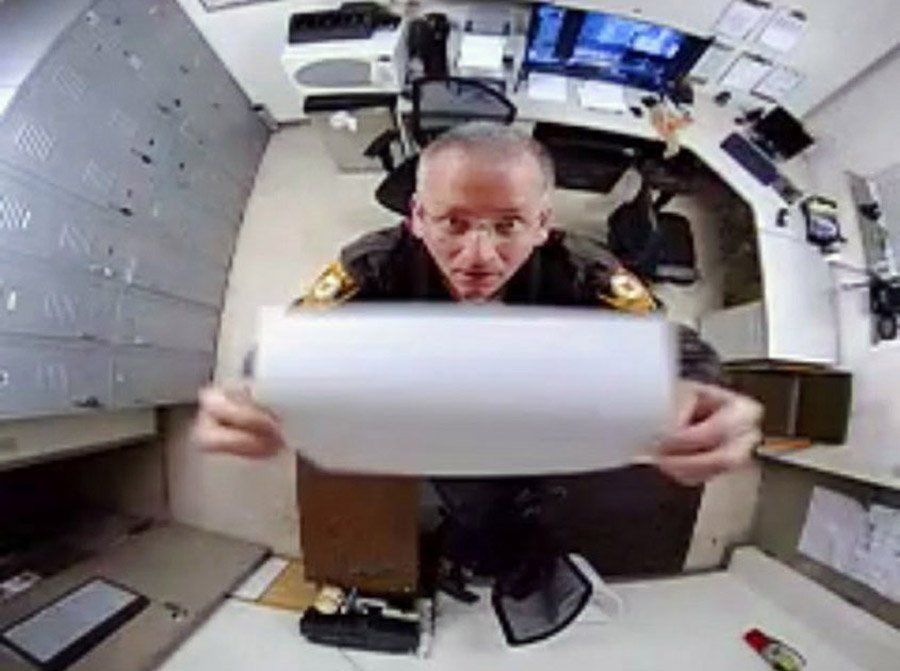 ST LOUIS COUNTY MO Dec 6 2017  –Eleven St. Louis County police officers assigned to patrol MetroLink were issued written reprimands — some for loitering in Metro security offices and others for covering security cameras in the offices.
County police, in a news release issued Friday, also said several other allegations of misconduct were determined to be "unfounded or not substantiated" in a 16-week internal affairs investigation of the department's MetroLink unit.
Twelve reprimands were issued, with two going to one officer. The officers' names were not released. The reprimands concern six incidents between December 2015 and last July at MetroLink's Clayton and North Hanley stations.
County Police Chief Jon Belmar initiated the investigation in July after Post-Dispatch columnist Tony Messenger published a series of reports alleging misconduct by officers.
The series was based largely on documents and videos obtained from MetroLink through a public records request.
The series appeared at a time in which county officials said they had doubled the number of officers patrolling the transit system to deal with a spike in violent crime.
Belmar submitted the report last week to the county Police Board.
Belmar said in a statement that he began the investigation because county officers were and should be held to a very high standard. "This department has never shied away from discipline when appropriate," the chief said.
Police Board President Roland Corvington said in a statement that the board found the investigation "to be thorough and conducted to logical conclusion."
County Executive Steve Stenger declined to comment.
So did officials with the Bi-State Development Agency, which oversees Metro. Bi-State "will not comment on county police personnel matters," agency spokeswoman Patti Beck said.
County Council Chairman Sam Page said he had yet to see the news release. However, he said he believed there remained a need for an outside investigation, as called for in a resolution passed by the council in July.
The county police news release said that in two incidents, officers got reprimands for loitering or "spending more time than acceptable" in a security office.
In three others, officers were reprimanded after admitting they covered cameras "for privacy reasons," the release said.
In another camera incident, police said "the involved officer" was reprimanded after he admitted covering one "for the purpose of putting on his ballistic vest." The officer, police said, forgot to remove the paper from the camera when finished.
However, Sgt. Shawn McGuire, a county police spokesman, said in an interview that investigators were unable to find any evidence of the officer sleeping there, as had been alleged by a Metro information technology employee.
McGuire said Metro refused to provide the name of the employee reported to have made the allegation.
In all, McGuire said, 12 allegations of misconduct were investigated and six resulted in reprimands.
Among allegations county police said were unfounded was one on Nov. 15, 2016.
In that case, an off-duty municipal police officer emailed two pictures to Metro that showed that a county police officer who was supposed to be patrolling MetroLink was instead at a gun store in the Affton area.
During the time the officer was at the gun shop, he received a call to transport and book a prisoner. It took him more than 30 minutes to get there, according to call records.
County police said the investigation found that two officers were present at the gun store but with "supervisor approval" to buy raffle tickets for a benefit for the family of Officer Blake Snyder, who was killed in the line of duty. The store, police said, was near "a Metro property."
Police said the officers responded and transported the prisoner in question within 22 minutes, not more than 30.
Police on Friday also said investigators were unable to reach Michael Sorkin, a former Post-Dispatch reporter who posted on social media that he found four county officers doing nothing in a darkened security office last June 5. Messenger recounted Sorkin's experience in one column.
Police said Friday that the officers involved "indicated they were eating dinner" and they turn the lights off for safety reasons.
Sorkin told the Post-Dispatch on Friday that he had never received the email message that police said they had sent. He called ridiculous police claims that they couldn't find him.
"And the proof of what I reported is there for anyone to see," Sorkin said. "All the investigators have to do is go to the MetroLink platforms and ask the same question I did: Where are the county police who are supposed to be there on patrol?"
St. Louis Post-Dispatch