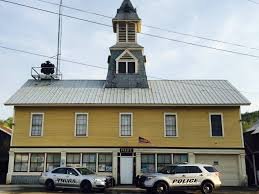 RANDOLPH, Vt. December 6 2018 — The small-town police force here was like something out of an old black-and-white folksy movie — a relic of an era when gas was cheap and kids gathered at the local depot to watch the big trains rumble through.
Members of the Randolph Police Department walked a beat on Main Street where everybody knew their names. They handed out candy on Halloween. They visited schools. They broke up fights. And if you drove drunk after a rough Friday night, they locked you up.
But, one by one over the course of the last year, the local police force has drifted away.
Simple economics may mean it's not coming back.
The blinds are drawn on the old downtown police station, a mustard-colored clapboard building with maroon trim that once housed a grain silo.