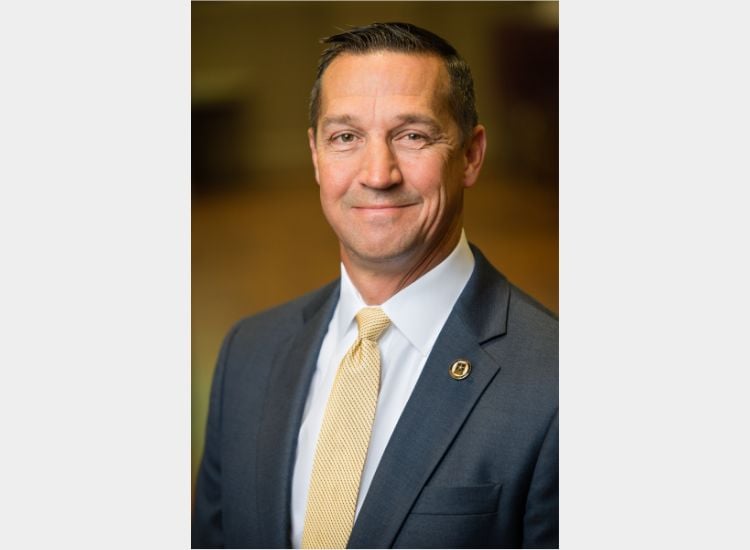 Charlotte NC June 28 2020
UNC Charlotte professors are joining the movement to oust Associate Vice Chancellor for Safety and Security John Bogdan over his controversial military service at Guantanamo Bay detention center in Cuba.
On June 11, UNC Charlotte's chapter of the American Association of University Professors (UNCC-AAUP) sent a letter to Chancellor Phil Dubois and other administrators demanding Bogdan's dismissal. The memorandum marked the first organized effort against the associate vice chancellor since the "Coalition to Remove John Bogdan" formed in Oct. 2019. The student group primarily protested through social media, chalking and tabling, but has since been largely inactive and did not respond to requests for comment.
The UNCC-AAUP's letter concerns actions and policies that occurred from 2012 to 2014 under Bogdan's watch as warden of the Joint Detention Group at Guantanamo Bay, including genital searches of the Muslim detainees, force feeding hunger strikers, placing hunger strikers in solitary confinement and monitoring confidential attorney-client meetings, among other offenses. Since then, 128 of the detainees that Bogdan supervised have been released or transferred.
Bogdan was hired to his first civilian job as UNC Charlotte's head of security in late Dec. 2018 after a 34-year military career during which he also ran detention centers in Iraq and, allegedly, Somalia. He did not respond to the Niner Times' multiple requests for an interview.
Chancellor Dubois remains steadfast in his support of Bogdan. "The memo handpicks and regurgitates secondhand information that conforms to a predetermined narrative," he responded to the group on the same day he received the letter.
"We are confident that, in his civilian capacity, [Bogdan] is fully capable of acting in a professional manner and adhering to the expectations we have with respect to the behavior of senior administrative officers."
UNCC-AAUP President John Cox was disappointed by the Chancellor's response, stating, "In these first two weeks of June 2020 we can see rapid shifts in public opinion and policy, spurred by the horrifying lynching of George Floyd and subsequent protests. NASCAR bans the Confederate flag, small towns in Alabama pull down statues of racists, the Supreme Court makes a surprising decision to uphold the humanity of LGBTQ people. And in the midst of this, our Chancellor — in the name of all of us at UNCC — endorses the imprisonment and torture of southern Asian Muslim individuals, very few of whom were ever charged with a crime, at a notorious prison camp."
The group also called for the disavowal of the "Chancellor's Fact Set," a bulleted list responding to allegations against Bogdan that was circulated in January.
Another member of the UNCC-AAUP who wishes to remain anonymous said they were surprised by the Chancellor's response: "I was astonished to read that response they gave us. I can't imagine why a chancellor who leads an educational institution and should lead by example refuses to look at the evidence."
Among that evidence is a 13-page letter sent by 19 attorneys to the Secretary of Defense criticizing Bogdan for "revamping dormant policies" like Quran inspections and genital pat-downs. Dubois told the Niner Times he had no comment on the letter.
The UNCC-AAUP's letter also discussed concerns around Bogdan's covert hiring. He was selected as one of 27 candidates from a pool of 153 applicants by the private firm Buffkin/Baker. Twelve of the candidates were interviewed by a UNC Charlotte committee and four finalists were ultimately brought to campus for interviews. There was no announcement of the search process until after Bogdan was hired.
Now the coalition of professors says the University should cut ties with Buffkin/Baker and alert faculty of job searches for upper-level positions. "We ask that UNC Charlotte not use the Buffkin/Baker firm again, as they demonstrated flawed judgement and were neither transparent nor forthcoming with the UNC Charlotte hiring committee," the letter states.
Apart from the issue of Bogdan's employment, the faculty group is also requesting the establishment of a campus police oversight committee to formulate a "set of agreed upon practices."
Chancellor Dubois told the Niner Times on June 15 that he has asked a group to develop a proposal for such an advisory council that would include students, faculty and staff. "[The council would] be engaged in periodic discussions of the community policing practices of the campus police along with the University City Division of CMPD in carrying out the responsibilities in our mutual assistance agreement," said Dubois.
The memorandum comes at a time when the Black Lives Matter movement is reigniting concerns over school policing. Students at institutions like the University of Chicago, Yale University and the University of Minnesota have all called for the defunding of their schools' respective police departments.
"Moving police out of schools isn't new," said Africana Studies Department Chair Dr. Julia Jordan-Zachery in an interview with the Niner Times. "Black women, Brown activists and people in general have been doing this for years. What we know in general is that policing on campus mimics policing in the larger community; Black and Brown bodies are overrepresented in the stops that occur on college campuses. All universities should take the time to look at the data but also to speak with Black and Brown students with whom the police might not necessarily know how to engage."
"It would be nice if, for example, the group against John Bogdan could be brought into the circle and the University could say, 'tell us what you're imagining,'" Jordan-Zachery added.
Chancellor-elect Dr. Sharon Gaber begins her term on July 1, and many will be watching to see whether she takes a stance on the Bogdan issue. Chancellor Dubois told the UNCC-AAUP he has advised Gaber to "consider the matter closed and make no further response."