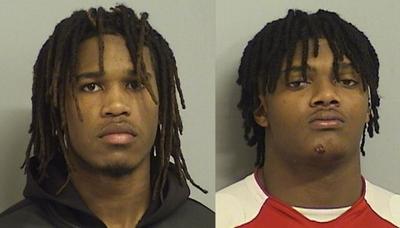 Tulsa OK November 1 2019
Two University of Tulsa football players were arrested and dismissed from the team Wednesday after a security officer found drugs and a gun inside their dorm room.
Tulsa police arrested Korey King, 19, and Lazarus May, 18, after midnight upon receiving a call from TU security officers, according to a TPD news release.
Security officers reportedly noticed a strong smell of marijuana from a dorm in John Mabee Hall and found King, a wide receiver, and May, a defensive end, inside along with a "large quantity of marijuana" and a Kel-Tec sub 2000 9mm rifle.
Marijuana, including medical marijuana, and firearms are prohibited on the campus.
Security officers detained the men while TPD officers executed a search warrant, finding 253 grams of marijuana, the rifle and three Airsoft guns. Air rifles are also prohibited on campus.
In a statement, the university said the safety of its students, employees and visitors remains its top priority.
"While laws regarding student privacy prohibit the university from commenting on students' status, we can say that Korey King and Lazarus May are no longer on the TU football team as of Wednesday," the statement read.
The men, both redshirt freshmen originally from Texas, were booked into the Tulsa County jail on complaints of possession of marijuana with intent to distribute and possession of a firearm in the commission of a felony as a first offense.
They remained booked Wednesday in lieu of $15,000 bonds.
Tulsa World