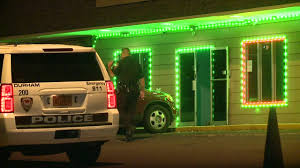 DURHAM, N.C. June 18 2019
A security officer sitting outside a business on break was ambushed by two armed men and forced back inside the business.
Police say it happened around 4 a.m. when two men jumped the security guard and forced him inside.
Durham police said that officers responded to the robbery at the Sky Sweepstakes on North Roxboro Street overnight.
The two men took the cash drawer and money bag, police said.
The amount of money taken is not yet known.
Police did not if the suspects or the security guard were armed.