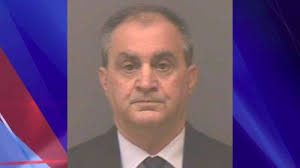 NORWICH CT Feb 26 2019 — Kevin Rodino, Norwich Free Academy's director of campus safety, has been arrested on charges he failed to report an inappropriate relationship in April 2017 between an NFA coach and student.
Rodino, who was placed on paid leave by NFA a month ago, is charged with failure to report suspected child abuse, tampering with evidence, making a false statement and interfering with a police officer.
He was released on a $500 nonsurety bond and is scheduled to be arraigned on March 7 in Norwich Superior Court.
NFA Communications Director Geoff Serra issued a statement in response to the arrest, acknowledging the school is aware of the arrest.
"We are aware of today's arrest<" Serra said in a statement. "Head of School David Klein placed Kevin Rodino, on administrative leave, January 23, 2019. Because of the possible criminal and civil implications of these matters, we are unable to comment further."
Rodino's arrest followed an eight-month investigation by Norwich police in connection with a case involving fired coach Anthony Facchini. Facchini was arrested in September on accusations he had sexual relations with two NFA students.
Police were notified in June 2018 by the state Department of Children and Families that NFA had reported that Facchini might be in an inappropriate relationship with the second of the students. After an investigation, Facchini was fired and then arrested on two charges of second-degree sexual assault.
Police said, however, that the investigation showed that NFA officials failed to report Facchini's involvement with the first student in April 2017.
Police said in warrants that after getting a report about Facchini's alleged involvement, NFA officials conducted only a cursory investigation, led by Rodino, before deciding the claim wasn't true, and neither local law enforcement nor Department of Children and Families were contacted.
In the 2017 report, Rodino said he was advised by an anonymous adult source, later revealed to be Denise Grant, head of the Office of Curriculum & Instruction, that a former student and current volunteer sports conditioning coach (Facchini) was possibly involved in a relationship with a female student or students.
During an interview by police with Grant, she said she had called Rodino in April 2017 to report her knowledge of the alleged inappropriate relationship between Facchini and the student.
Grant, according to the warrant, was told by Rodino within a week the matter was looked into and there was nothing to the allegations.
Grant told police she did not believe Rodino's claim that her report was made anonymously, because she called from a landline in the school and his office phone would have displayed her name on his caller ID. She also said Rodino knows her voice because they have worked together for years.
″(Grant) was asked if she wanted to be anonymous and she said she did not. She pointed out there is no way Rodino believed he was talking to an anonymous female because he reported back to her after he looked into it. Grant said she felt it was very odd that Rodino would have reported her as anonymous because her identity was never in question," the warrant said.
According to the Department of Children and Families, state law requires all teachers and coaches to notify DCF when they have "a reasonable suspicion" a student may be abused or neglected. A sexual relationship between a coach and student is considered abuse.
The warrant also claims Rodino kept and referenced hand-written notes in a hardback, green notebook during NFA's internal 2017 investigation.
By the time police said they received that notebook through a search and seizure warrant, the first 80 pages were removed.
In a press release Monday announcing Rodino's arrest, police said that NFA officials initially promised to cooperate with the police investigation and provided copies of reports and documents. But NFA officials refused to provide information from an internal investigation launched in November that resulted in clearing Head of School David Klein in January.
"Upon completion of that investigation, the Norwich Police Department requested a copy of that investigative report," the press release says. "This agency was advised the report was an oral report made to the NFA Board of Trustees."
Norwich police then asked permission to interview the investigator who conducted NFA's investigation. On Monday, police said, NFA's attorney, Kyle McClain, couldn't allow the investigator to be interviewed for a "variety of reasons, including the confidential and attorney-client privilege nature of the investigation…"
Norwich police also sought arrest warrants for three other individuals, also on charges of failure to report suspected child abuse.
The individuals' names are redacted in a Feb. 21 letter from New London State's Attorney Michael Regan to Norwich Police Chief Patrick Daley. But the charge would apply only to an official, such as a teacher or school administrator, that the law requires to report suspected child abuse.
Regan, who is the top prosecutor in the New London Judicial District, declined to sign the other three warrants, meaning the individuals will not be charged.
"Based on my review of the materials submitted, I have concluded that we would be unable to prove beyond a reasonable doubt" their actions "were wilful or intentional or due to gross negligence," Regan wrote.
A special meeting of NFA's Board of Trustees is scheduled for Wednesday night. The meeting's agenda does not specify what the board plans to discuss, but the meeting is expected to be held entirely in executive session.
The Bulletin