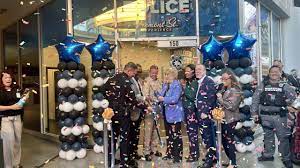 Las Vegas Nevada October 20, 2023 It's not every day that several police agencies and a private security company join forces and settle into a joint operation precinct but that's exactly what's happening in Las Vegas.
A new substation located on Fremont Street is a dedicated place where visitors and locals in the district can go for assistance and where the agencies that patrol that area can all operate under one roof.
The substation includes officers from the Las Vegas Metropolitan Police Department, City of Las Vegas Deputy City Marshals and Fremont Street Experience security.
Mayor Carolyn G. Goodman, Sherriff Kevin McMahill, Fremont Street Experience President & CEO Andrew Simon, Ward 3 Councilwoman Olivia Diaz, Ward 5 Councilman Cedric Crear and City of Las Vegas Public Safety Chief Jason Potts officially opened the new substation.
"We continue to make public safety our top priority with the opening of the new joint police station," said Mayor Carolyn G. Goodman.
A ribbon-cutting event was held Tuesday evening at the substation at 420 Fremont St., suite 150.