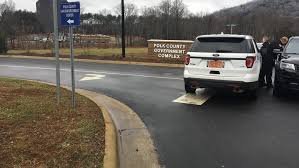 POLK COUNTY, N.C. January 14 219 Police a say an hours-long standoff inside the Polk County Sheriff's Office ended with a man taking his own life.
"Speaking with a few of the officers that I did, I know they were very upset, because we were working towards a peaceful solution to this matter," said Plk County Sheriff Tim Wright. "We can't control what the individual does. We can't control that at all."
The incident happened around 5 a.m. Sunday morning. Police had brought in a man on suspicion of DWI.
Authorities say once they reached the sheriff's office in a patrol car, the suspect told police he had a gun. Authorities evacuated the area and officers tried to negotiate with suspect for several hours.
The North Carolina State Bureau of Investigation, Transylvania County Sheriff's Office, Columbus Police Department, Polk County Emergency Management, Cleveland County Sheriff's Office and Tryon Police Department also assisted.
The effort failed, and the man took his own life.
The SBI will be investigating.
The suspect's name has not been released, pending notification of next of kin.
A spokesperson says the suspect was not from Polk County.
WLOS