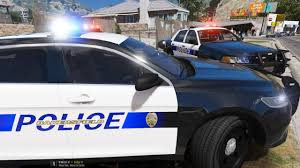 BAKERSFIELD, Calif.  May 30 2019— Bakersfield Police and US Marshall agents have arrested a man they believe was involved in the attempted murder of a security guard back in 2018.
On Tuesday, officials located and arrested Adolfo Rivera Jr in the 1000 block of Exchange Street.
Bakersfield Police say Rivera had an outstanding warrant for robbery, weapon possession, gang participation and the attempted murder of Eric Huggins, employee and security guard at an internet cafe on January 14, 2018 .
Rivera attempted to flee from officers, while in possession of a concealed handgun, but was quickly apprehended with the assistance of a Police K9.
Rivera was booked for his outstanding arrest warrant, as well as additional weapon charges, resisting arrest and gang participation.