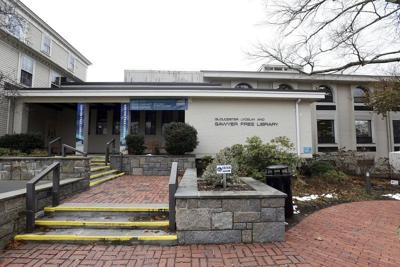 Gloucester MA Jan 31 2019
Visitors to Gloucester's Sawyer Free Library can expect to see some new personnel — uniformed security officers aimed at keeping tabs on their safety and maintaining the library's peace — beginning next week.
The library's Board of Trustees is bringing aboard six former police officers — most retirees from the Gloucester Police Department — to keep watch over the library and its patrons. At least one officer will be on duty during all times the library is open to the public, according to trustees' spokesperson Tracy Davis.
The safety and security expansion project is expected to cost about $140,000 annually, library Board of Trustees President John T. Brennan said in a phone interview Monday. The addition of the safety officers is slated to take effect next Tuesday, Feb. 5. Davis said the cost will be paid fully from the library's budget, which is supported by state grants and $1.13 million in city funds for its day-to-day operations.
The action is the latest in a series of safety and security upgrades at the library that has included staff training with city police, a steady round of property checks by the Gloucester Police Department and  an improved surveillance camera system. New security safeguards now include a requirement that anyone seeking to use a restroom show a library card to gain access.
"We're taking library safety very, very seriously," Brennan said in the phone interview, "and this is part of our expression of that."
"We continue to strive to strike a balance between offering a broad open door policy for all community members and ensuring a safe, secure environment," Brennan said in a prepared statement issued earlier Monday. "People of all ages from across Gloucester count on Sawyer Free Library to be a warm and welcoming place and feel safe to pursue their informational, educational, and recreational needs — from reading books with children to accessing technology like computers and the internet."
The safety and security of the library — especially from drug-related activity — has regularly come under scrutiny in recent years. While officials have noted that other public buildings in Gloucester and elsewhere face similar challenges, reports of police actions in the area of the library routinely recount the recovery of discarded hypodermic needles inside and outside the facility, and the presence of "unwelcome guests" who use it as something of a shelter when other public buildings and the Action Inc. and Grace Center facilities are closed.
Those issues burst into the spotlight Oct. 15, when police summoned by library staffers rushed into a men's room adjacent to the children's room and arrested two men accused of making a heroin deal. One man is also accused of using the drug at the sink.
That spurred the move to require a library card to gain restroom access. But a number of issues have persisted – including this past Saturday, when police responded to a call reporting an unwelcome guest and police ordered the person to leave while also issuing a no-trespassing citation.
Brennan said the fact that the security officers — who will not be armed or have police authority to make arrest — are locally-based should help the project. The security corps is being headed by city Traffic Commissioner Larry Ingersoll, a retired Gloucester policeman, through a new provider formed by Ingersoll and fellow retired police Officer Ernest Curtis.
"These are area guys who know what it takes to meet the library's needs," Brennan said. "One of the things that's good about it is they have a basis of understanding of the patrons, and they have an understanding of the pattern of activity."
Davis said the security schedules are coordinated to provide coverage for all 59 1/2 hours of the library's weekly schedule.
"We hope that the security officers and the other recent upgrades will be a welcome addition to (the library)," Brennan said. "The fact is, people can and should feel safe at their local library, and it is an important message we need to send out to the community."
gloucester times