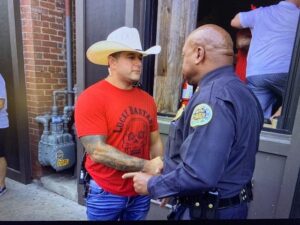 NASHVILLE, Tenn. July 25 2022— "He's got a gun!" someone shouted as a total of 6 first responders, including police officers, were working to detain another man in downtown Nashville Friday night.
A nearby security guard watched a man pull a gun from a backpack. Seconds later, the security guard tackled him and held him until officers took over.
The dramatic moment happened on Broadway, one of Music City's busiest streets, according to Metro Nashville Police (MNPD), as first reported by our sister station WZTV.
A MNPD release says a little after 11:30 p.m. Friday, 6 first responders, including officers, were working to detain a man, though from the release it's unclear why.
They say a man later identified as Cristopher Quintero "interfered." Police say officers told him to get back.
A citizen yelled that Quintero had a gun,' the release says.
That's when MNPD says a nearby security guard at the Lucky Bastard Saloon took action. The release says the unidentified guard jumped onto him when he saw him pull a gun from a bag, causing him to drop it,"
Police took Quintero into custody and charged him with 6 counts of aggravated assault against a first responder with a deadly weapon, as well as unlawful gun possession, possession of a gun under the influence, public intoxication and marijuana possession.
MNPD says he's now behind bars on a $53,000 bond.
It's not clear from the release whether Quintero knew the man police were trying to detain.